We know how much time Corvette owners spend on detailing their vehicles because nothing looks better than a freshly washed Corvette! And now that you got the outside of the car looking fantastic, what are you doing about the interior? GTECHNIQ is known across the world for its innovative surface care products and their knowledge and experience in creating advanced cleaning formulas that work at the molecular level are also available for your Corvette's interior.
GTECHNIQ's interior products will not only clean and protect your Corvette's cockpit, but they will also help to keep you and your passenger safe as they contain an ion called Biocote® that is antimicrobial and kills 99.99% of surface-related bacteria.
Visit GTECHNIQ for even more info related to their interior car care products.
I2 Tri-Clean Interior Spray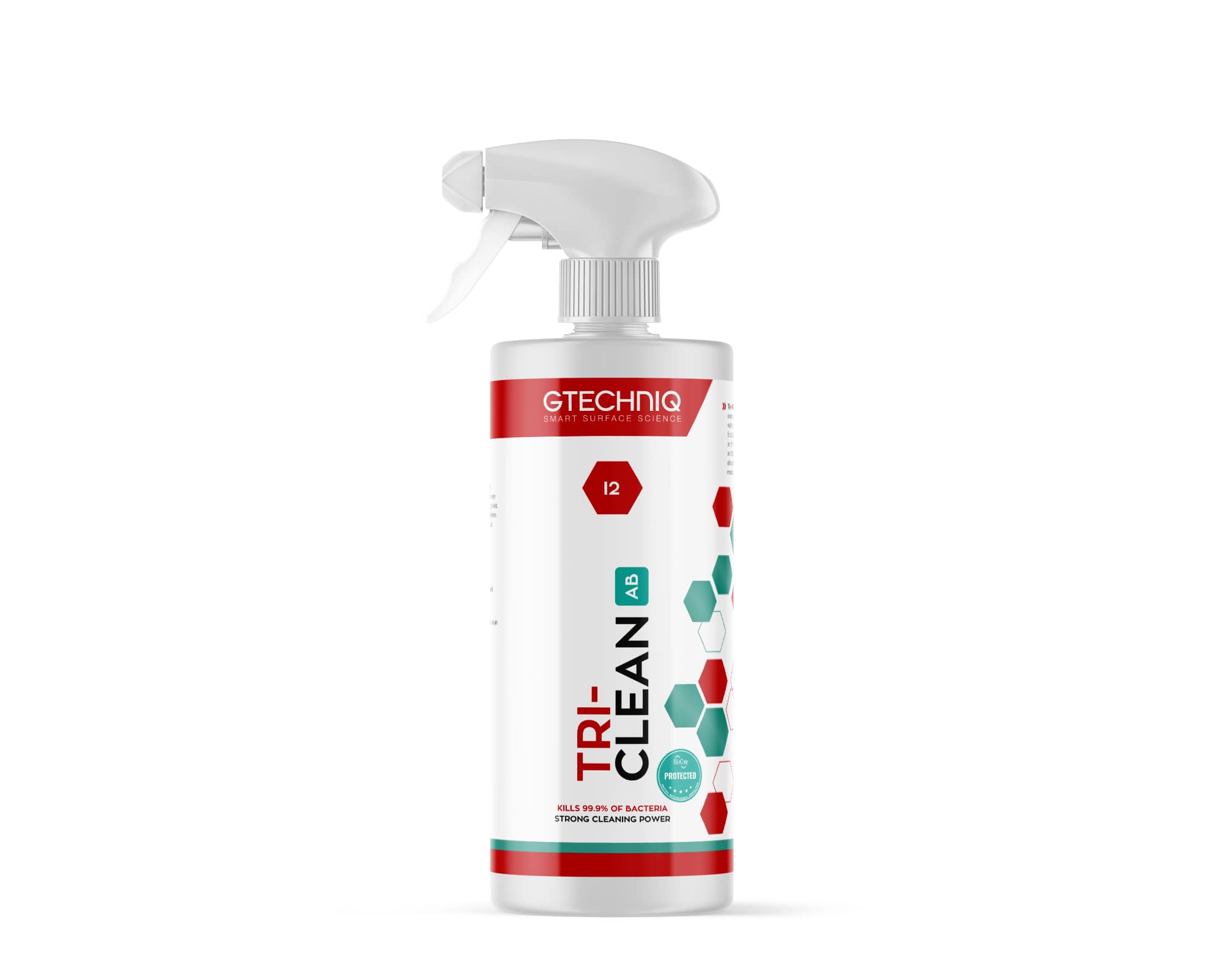 GTECHNIQ's I2 Tri-Clean Interior Spray is a surface interior product that cleans and kills 99.9% of all bacteria. Developed in conjunction with the global leader in antibacterial and antimicrobial technology, Biocote®, I2 ensures surfaces remain hygienic and fresh, by actively reducing the number of microbes.
I2 Tri-Clean can be safely used on leather seats, dashboards, door panels, carpets, upholstery, and more to provide a deep clean. Just spray Tri-Clean onto the MF1 microfiber towel and rub until its clean. I2 doesn't just mask odors, it's also formulated to be a true odor absorber, and it eliminates tacky residues that attract dirt and grim.
I2 Tri-Clean is available in a 500ml spray bottle for $19.95. It's also available in a 5-liter refill jug for professionals.
L1 Leather Guard
GTECHNIQ's L1 Leather Guard AB will keep the leather in your interior supple and healthy. One application offers between 3 to 12 months of durability depending on your environment. We love the fact that it helps prevent dye transfer from jeans to your seats, something we've seen on the Z06 Dealer Tour vehicles from all the people getting in and out of them. And speaking of people, L1 Leather Guard also contains antibacterial protection from Biocote® which kills 99.9% of bacteria on leather surfaces.
To apply L1 Leather Guard, spray a thin layer onto the AP3 applicator and then work it into the leather. Once you've coated all the leather, use the MF1 microfiber towel to wipe clean any remaining residue.
L1 Leather Guard AB is available in 100ml and 500ml sizes starting at $21.95.
C6 Matte Dash AB
GTECHNIQ's C6 Matte Dash AB has been specifically formulated for protecting your dashboard and door panel materials including vinyl, plastics, and rubberized finishes. Matte Dash also adds abrasion resistance, dirt and water repellency, as well as UV protection.
Matte Dash is applied with an AP3 foam applicator and is wiped onto the surface evenly. Removed excess residue with a clean MF1 microfiber towel. When applied, Matte Dash will not affect the gloss of your car's trim and leaves a natural feel.
GTECHNIQ's C6 Matte Black Dash AB is offered in a 100ml spray bottle for $19.95.
In addition to the W6 Iron and Fallout Remover, GTECHNIQ's W5 Citrus All Purpose Cleaner is 100% biodegradable and can be used for your tires, wheel wells, as well as your Corvette's painted exterior to gently remove oil, grime, and other road contaminants, and it won't damage your previously applied GTECHNIQ coatings.